It's the Moment of Truth. You're wedding day is coming up, and your bride-to-be wants a classic formal event, with all the bells and whistles.
Son, you need to get yourself a wedding tuxedo.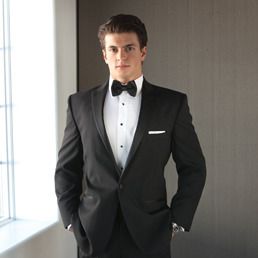 Now, a lot of guys would freak out. They don't know a darn thing about tuxedos, and they probably have some quaint notion about white-tie-and-tails that dates back to some old Fred Astaire flick they saw on AMC.
You're not that guy. You're more of a "James Bond" type. You're actually stoked about the opportunity to wear a tux and look supersexy in front of your future wife.
You, sir, are on the right track. So what should you look for at the tux store?
If you want an elegant sheen (and you do), get something in black or midnight blue cloth with a touch of mohair.
If you're going for a classic look, get peaked lapels in black silk satin, with a single-button front (for bigger guys) or a double-breasted front (for thinner dudes).
Big men should go for a ventless jacket. Smaller guys can opt for a cummerbund or waistcoat with a single-button jacket if they'd like to "bulk up" a bit.
Forget about wearing a belt – get yourself some suspenders. A galon stripe on the side of your trousers is always a nice touch. The pockets should be jetted (no flaps) for formal occasions, and your jacket should have a pocket square in traditional white linen (although a dollop of color in silk or linen is A-OK).
Your starched shirt should be white (of course) and pleated with double cuffs and a turn-down collar. The front should be studded, fly, or marcella piqué. Top that off with a black silk bowtie that matches your lapel, which should be adorned with a boutonniere.
Are you starting to freak out a little bit with all these details? Well, calm down, because you're not finished yet, and it's all worth it.
Finish the outfit with black over-the-calf pure silk socks (nice) and black plain patent leather oxford shoes.
Remember: Every girl's crazy `bout a sharp-dressed man! Including your fiancé!