A few of my friends on Facebook know I have been working out four times a week at home religiously. The reason why I do this is because when I was in the Philippines I gained 3 pounds and I felt disgusted of myself every time I look at myself in the mirror because of the flabby front abdomen and side waists. Not only that, I had a bulging belly and when it bulge like that I feel tired and my body is heavy and it feels as if I couldn't move around freely. Second reason is, I am now 30 years old and once you hit that age, I have this perception that diseases, wrinkles and other kind of negative stuff start to surface. So those are the things that motivated me to start working out again.
This week's working out took a toll on me although I did not really stop but my mind and body refused to lift weight, they are telling me that it's hard to do and just quit but then, when I took a picture of myself again yesterday which is shown on the right pic, it just give me justice of sweating every afternoon. I am not quite there yet as you can see I still see some fats in the front abdomen there but I just have to keep going. After all, it's for my own good and you know I don't look too "loud" in my husband's eyes.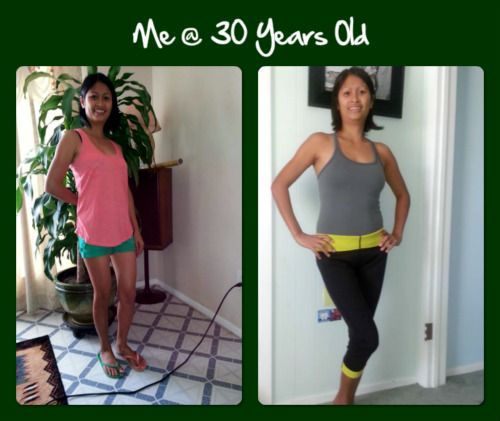 left photo was taken on June 24, just three days after my birthday and the right photo was taken yesterday, July 11. Looking at these photos I can see I am making progress although I have not heard any comment from my husband about my body has toned a bit but at least the pictures do justice of the hard work I have been doing.