This is a late post. I have been feeling lazy to update my blogs lately due to the lack of tasks or opportunities. Here are photos of me and Janine and the new acquaintance Jenny taken last Sunday, January 12,2013. It is like a vacation for me when I get to hang out with Filipinas in DFW area with only one kid in tow. I think all mommies can relate with me that we also need a time to break and be away from the house for just a few hours.
Our original plan was to have lunch at a Korean restaurant nearby but it was closed so we went 23 minutes away and our feet brought us to Oriental Manila Filipino buffet restaurant. I am glad we changed plan for both of the girls have enjoyed the lunch, it was their first time to have dined in at Oriental Manila. Since the restaurant is just a couple steps away from the big Asian market, we then shopped for Filipino groceries, fish and other stuff in Hongkong Market.
Both of the girls got so excited when they found out that malunggay leaves were available at the store. Janine said, the 45-minutes drive to hangout with me and Jenny was worth it for she brought home malunggay leaves, haha. Malunggay leaves are sold at a high price here but despite of the price, we still buy them just so we can have a "taste of home" in our plate.
Malunggay is an ordinary leafy vegetable available elsewhere back home but here in America, it is golden and precious for these leaves are hard to find. I am just lucky I am not so far from the Asian market where there is malunggay.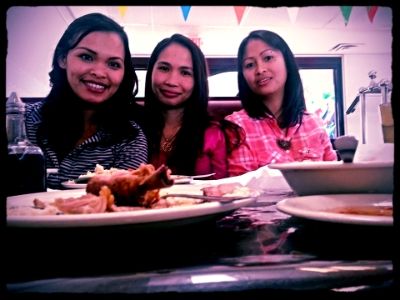 ……. so long that I did not see Janine in person, maybe 4 years ago was the last time, haha. So when she asked me that she wanted to hangout with me, I did not refuse. In fact, I took the opportunity to go out since she drove down here in Fort Worth plus she PICKED ME up from our house and drove to the Asian market. How lucky!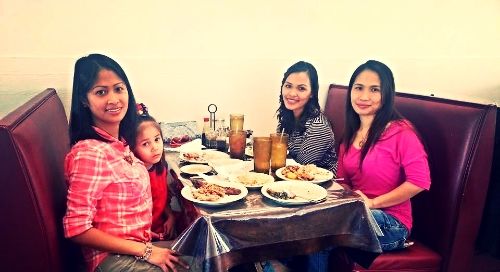 … photo below is of me (left) and Janine after having a heavy meal. Proud Filipinas in Texas here lang ang peg posing with the Philippine flag in the background.