If there is one wish I want to happen these summer days is for me to be able to workout at least four times a week in order to achieve my flat belly goal. But heck, I have other obligations that need my attention constantly. I am not complaining, I am just saying I wish I have the luxury of time to workout as often as I can.
Right now, I am trying to get that "me time" by working out at home 3 times a week if I can. I started getting serious with my exercise since I realized that I gained 5 pounds from too much eating since December 'till January, with all those party gatherings with awesome food, I just could not resist pigging out.
I got even more determined with exercise when my blood work last month came out I had high cholesterol and is so  high, 241 instead of just getting the normal numbers 90-200 level.
When I exercise, I don't do the same routine every time I sweat, rotate the kind of workout each time and use different machines for cardio. Luckily, we got a treadmill, an elliptical and a stationery bike. Once that fire start burning, I move on to the main exercise like lifting weights using dumb bells, leg exercises or do Jillian's HIIT.
Anyway, I am quite pleased  with all those hard work I have for weeks now, I lost 2 pounds, exercise at least 2 hours or more each time and eating light during the day. Photos below is of me looking sweaty right after doing my 30-minute cardio walk/jog on the treadmill and two shots doing Jillian Michaels' High Intensity Interval Training on Youtube.
Once goal is achieved, I will have to post my before and after photos of my belly. So wish me good luck, friends!

…. myself so sweaty after my cardio…

…. doing weighted (5 pound dumb bell) rear lunges here, first round of Jillian Michaels' High Intensity Interval Training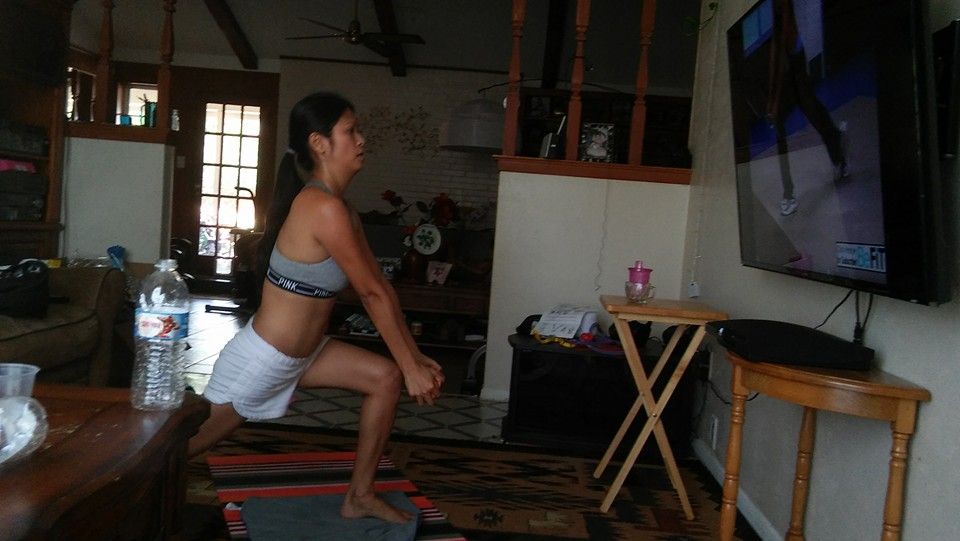 … I am not there yet but surely doing some progress. There is still at least three pounds need to lose and belly to shrink in two months time.